Welcome to the web site of Invitatione.
Invitatione is a group of singers and musicians active in the East Riding of Yorkshire and Kingston upon Hull.  Under the direction of Rachel Mathieson we give performances from small chamber works to full scale symphonies.
We are delighted to announce our forthcoming concert, which will present Dvorak Symphony no 9 (From the New World) and the Duruflé Requiem.
This concert is in aid of Dove House Hospice and will take place at St Alban's Church, Hall Road, Hull.
Tickets are available from all hospice shops or on the door (£7 each or two for £10).
We hope to see you at 7:30pm on Saturday 19th October 2019.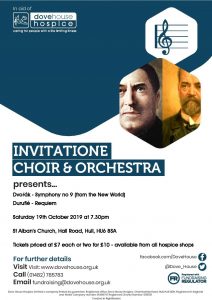 For further information contact us by email .
Posters for previous concerts:
Rachel Mathieson graduated with a first class BMus in 2007 and a PhD in Music in 2016 from the University of Hull. She also has a BA in Modern Languages and a DPhil in Education from the University of Oxford. Over the last decade, she has taught privately and in local schools.
A pianist, singer and conductor, Rachel has performed with many local groups and societies. She has been piano soloist in Gershwin's 'Rhapsody in Blue' and the Schumann Piano Concerto with the Hessle Sinfonia, and has been a guest conductor of a number of choirs and orchestras.
Rachel is now a part-time Research Fellow in the School of Education, University of Leeds. She also does freelance work, as a piano, singing and music theory teacher, as a performance coach, and as an accompanist to soloists and ensembles.
Rachel can be contacted at info@invitatione.org or via Facebook.
Enquiries about membership or of a general nature should be by email to info@invitatione.org.
Concert information is also available on our Facebook site using the link below.